DapuStor Enterprise SSDs Earn PCI-SIG PCIe 4.0 and UNH-IOL Certifications
26th Jan,2022
browse number:240
DapuStor
The DapuStor Roealsen5 and Xlenstor2 series of PCIe® 4.0 SSDs have earned PCI-SIG® Certification, making them the first Chinese SSD to pass the PCI-SIG Gen4 16Gbps compatibility test. Certification testing was conducted by Peripheral Component Interconnect Special Interest Group® (PCI-SIG )to ensure the compatibility of DapuStor PCIe® 4.0 SSDs.
The Roealsen5, Xlenstor2 series are shown on the PCI-SIG® Integrators List.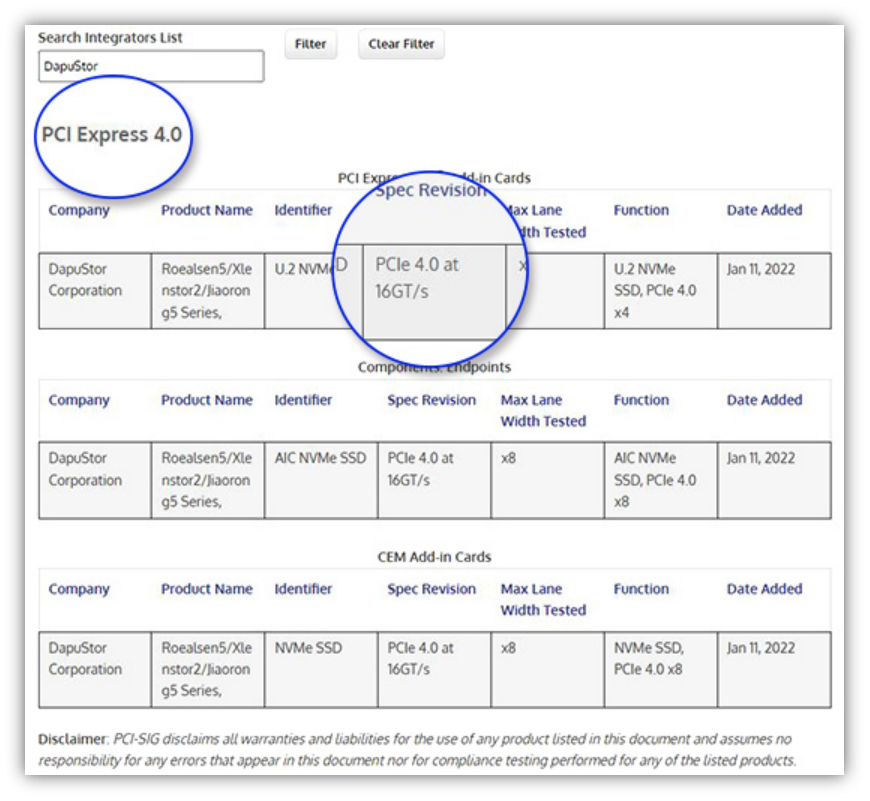 PCI-SIG® has absolute authority in the PCIe® field, and its certification standards are very rigorous. DapuStor PCIe® 4.0 SSDs passed the PCI-SIG® compliance test, perfectly proving its maturity.
The PCIe® 4.0 compliance test includes protocol testing, electrical testing and interoperability testing, and requires devices to provide a data rate of 16 GT/s. Moreover, devices must pass 80% of interoperability tests, and meet the test requirements at the data rate of 2.5 GT/s, 5 GT/s and 8 GT/s to ensure stable operation in all PCIe® based scenarios.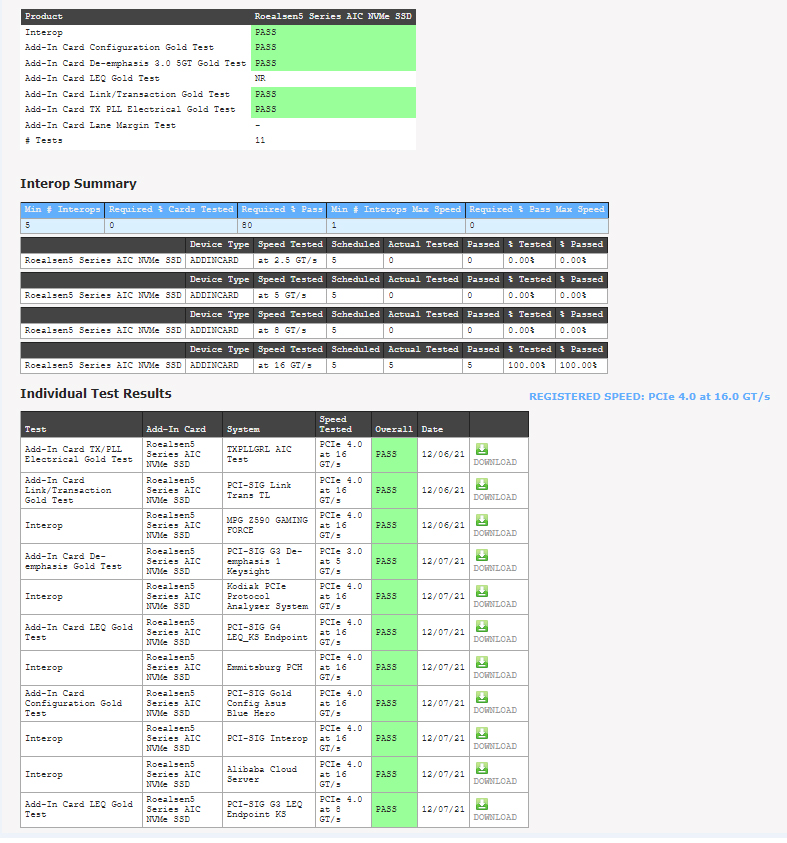 On the Integrators List, the Roealsen5 and Xlenstor2 series are the first to pass the PCI-SIG® Gen4 16Gbps compatibility tests in China, among the PCIe® 4.0 U.2 SSDs based on in-house SSD controllers. It should also be mentioned that the U.2 test is quite difficult because the additional adapter card required for the testing, increases the IL(Insertion Loss) in the electrical testing. The fact that DapuStor PCIe® 4.0 U.2 SSDs passed all the tests is a testament to its compatibility.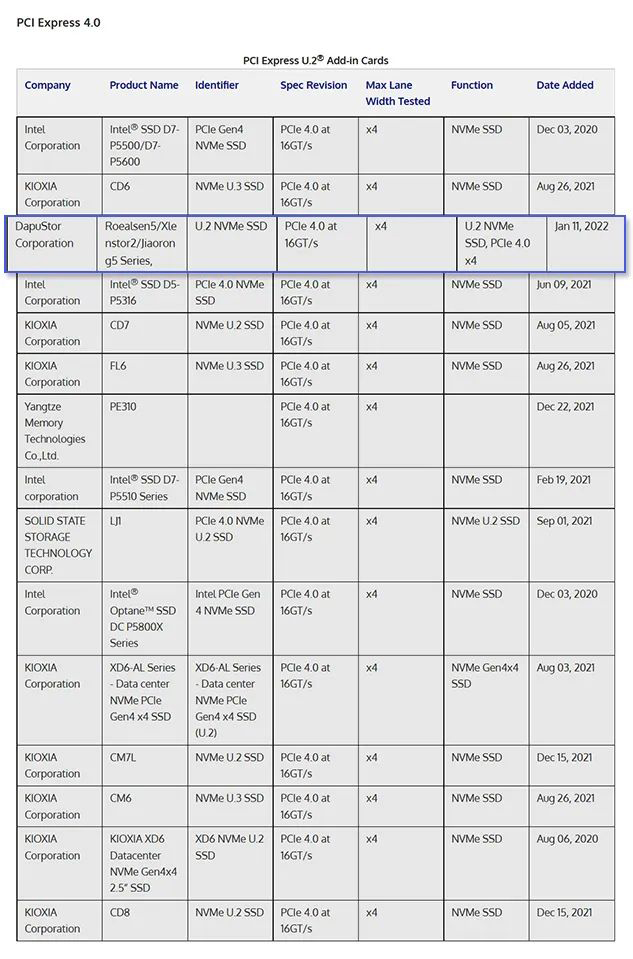 List of PCIe 4.0 U.2 SSDs Certified for Compatibility
PCIe® is undoubtedly the most mainstream high-speed expansion bus standard for both servers and personal PCs. DapuStor, as a leading Chinese manufacturer specializing in designing and developing PCIe® enterprise SSDs, will continue to promote the development of PCIe® together with other world-renowned companies in the future.
Related Articles::
● https://www.iol.unh.edu/registry/nvm
● https://pcisig.com/developers/integrators-list?field_il_comp_product_type_value=All&keys=DapuStor
Notes:
①The NVMe word mark is a registered and unregistered trademark and service mark of NVM Express, Inc. in the United States and other countries. Unauthorized use strictly prohibited.
②PCI Express and PCIe are registered trademarks of PCI-SIG.