DapuStor Presented New Technologies in the 2018 Flash Memory Summit
13th Aug,2018
browse number:248
DapuStor
Processing In Storage (PIS) and Machine Intelligence became hot topic
From August 7th to August 9th, 2018, the Flash Memory Summit ('FMS') was held in Silicon Valley, USA. FMS is the top-level memory summit that attracts global storage elites and storage companies each year to present the world's most advanced storage technologies and to explore next-generation storage technologies. Professor Yang Qing, Chairman and Chief Scientist of DapuStor Corporation, made a technical presentation entitled "Reducing Performance Variations Caused by Garbage Collection in Enterprise SSDs"on the first day of the conference, which was highly praised by experts and peers and inspired broad discussions among peers.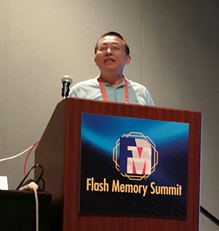 Professor Yang qing, Chairman of DapuStor
DapuStor is committed to building the world's first Data-storage Processing Unit (DPU) technology and enterprise-class intelligent SSDs by integrating computing and intelligence into data storage. Based on the PIS (Processing in Storage) architecture, DPU eliminates the I/O bottleneck of traditional architecture of separating computing and storage. By using machine learning methods, SSDs can learn user data characteristics in real time and dynamically and intelligently optimize I/O performance, reliability, and endurance based on actual users' workloads.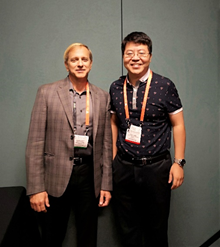 Chuck Sobey, President of FMS, and Yang yafei, CEO of DapuStor
What is interesting is that PIS and machine learning invented by and originated from DapuStor has become the main theme of 2018's FMS with the term of "Computational Storage". FMS Conference officially listed Computational Storage as the development direction of enterprise-class storage. As the first startup that originally proposed the concept, DapuStor has accumulated dozens of patented technologies during the past two years and launched FPGA prototypes at the 2017 FMS Summit. In the near future, DapuStor will release its GA products of enterprise-level SSDs offering PIS and machine learning features.
Processing In Storage and Machine Learning in SSDs
In the big data era, general users and corporates generate a large amount of data every day, such as personal WeChat, social networking, news, web applications, and more producing TB or even PB of data. According to IDC Consulting, the total amount of global data will double every 18 months, and by 2020 the total amount of global data will reach 40ZB. The exponential growth of data coupled with application demands for high computing performance has created a severe bottleneck between data storage and host CPU. Therefore, the PIS technology of DapuStor will play an increasingly important role.
On the other hand, the total shipment capacity of enterprise-class SSDs in 2017 was approximately 33 EB, and the penetration rate of the overall enterprise-class storage media was less than 15%. As SSDs taking place of HDD has been the general trend, it is assumed when all enterprise-class HDD are replaced by SSDs, at least 20 new $5 billion plants will be required. That is at least a new investment of $100 billion. Of course, this is only a hypothesis and industry replacements takes time. However, if there are ways to effectively prolong the life of flash memory, it will bring a very effective push to the whole industry. This is also the main purpose of DapuStor's in-disk machine learning technology.
Operation and Win-win situation
Success of a company relies on the support of partners and customers. With more than two years'technical development, DapuStor has made certain progress in the PIS and machine learning in SSD. Product development has been very smooth. In the current industry, the demand for big data storage and analysis is getting higher and higher. DapuStor is open to cooperate with all partners and launch enterprise-class intelligent SSD products for customer testing. Partnership and collaborations will create a win-win situation.