GRAID Technology and DapuStor Partner to Test the High Performance of NVMe SSD with SupremeRAID™
19th Aug,2022
browse number:414
DapuStor
GRAID Technology, the multi-award-winning data protection provider and developer of the only RAID card to unlock the full potential of NVMe SSD performance and DapuStor, the customization expert in high-end enterprise and data Center SSD, jointly conducted a successful product performance test. The test fully demonstrated the excellent performance and features of both products.
The test is conducted with the new NVMe RAID card from GRAID Technology --SupremeRAID™ SR-1010, the world's fastest NVMe & NVMeoF RAID card for PCIe Gen 4,has been partnered with well-known server manufacturers such as Dell. It delivers lightning-fast SSD performance in AI-accelerated compute, all flash array, and HPC applications. SupremeRAID™ SR-1010 increases read performance to 19 M IOPS and 110GB/s throughput and increases write performance to 1.1 M IOPS and 22 GB/s throughput in RAID 5/6, while maintaining the superior level of data protection our customers and partners have come to expect. (Based on Linux RAID5 with Intel Xeon Gold 6338 CPU 32-Core with 2.0GHz x 2)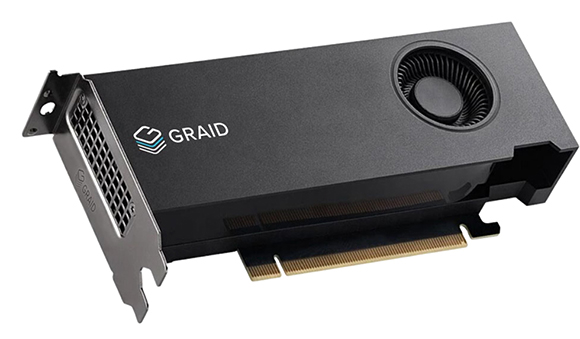 SupremeRAID™ SR-1010
DapuStor, a representative manufacturer of high-end enterprise NVMe SSDs, is using the mass-produced DapuStor PCIe 4.0 eSSDs Roealsen5 series for this test, which have already concluded large-scale cooperation with several Internet/cloud computing giants. Based on DapuStor's in-house DP600 and firmware, the Roealsen5 series is equipped with KIOXIA's latest 3D eTLC, delivering up to 1750K/550K IOPS of 4K random read/write performance, 7.4GB/s and 5.4GB/s of sequential read/write bandwidth.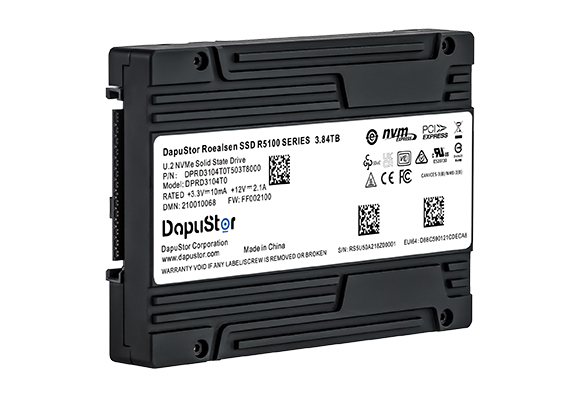 DapuStor PCIe 4.0 eSSD R5100(3.84T)
I. Test Results
Test Environment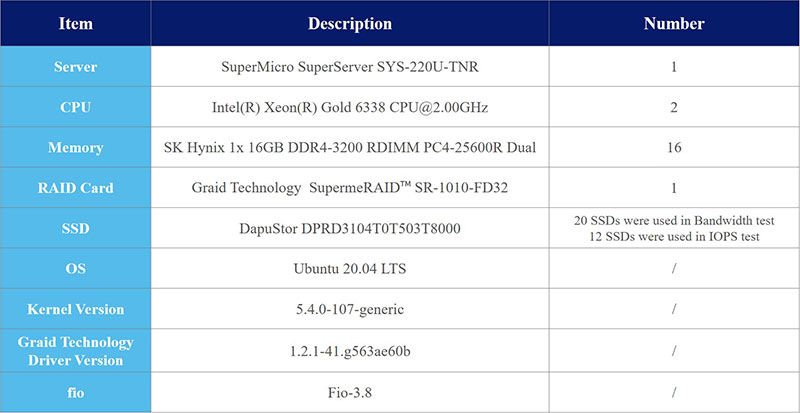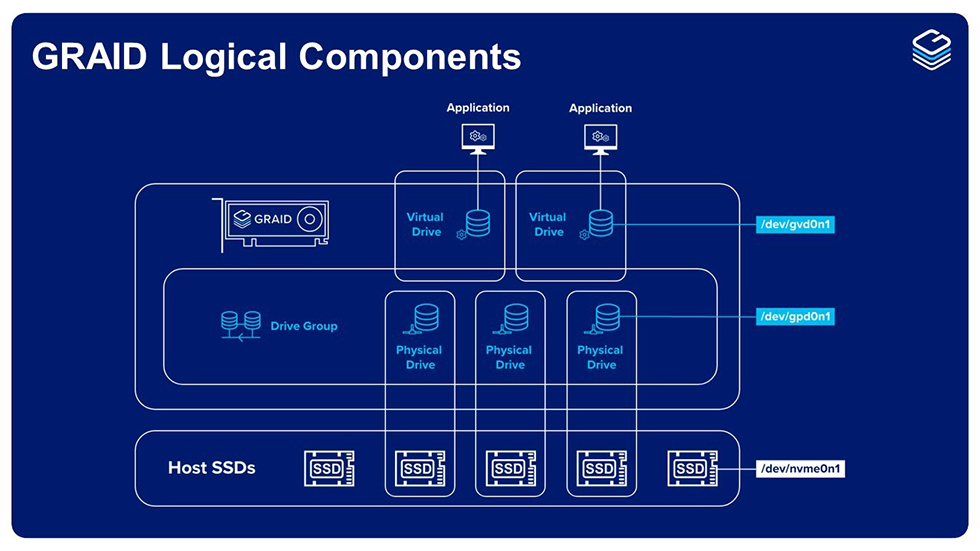 The hierarchy of the entire VD creation process

RAID Test Models:
Bandwidth——1M sequential read/write 64 Jobs, 8 QD
IOPS——4K random read 64 Jobs, 64 QD; 4K random write 64 Jobs, 32 QD
Single Disk Models:
Bandwidth——1M sequential read/write 1 Jobs, 256 QD
IOPS——4K random read/write 16 Jobs, 32 QD;
Test Results: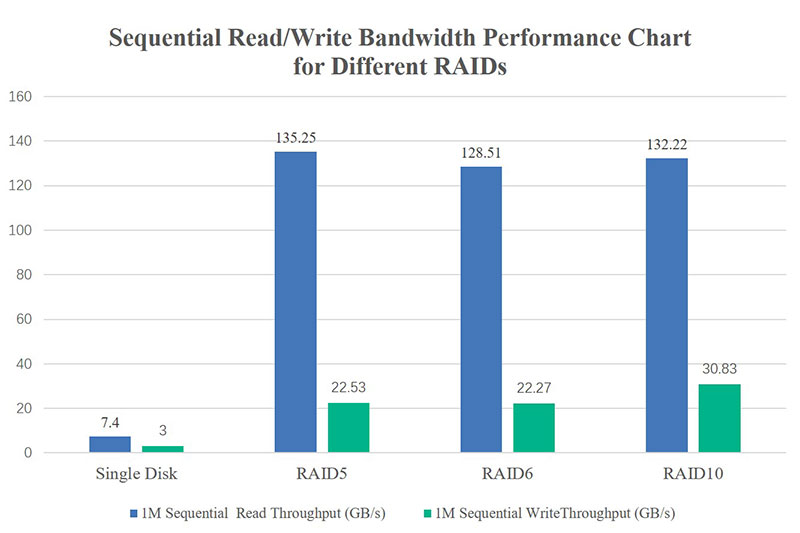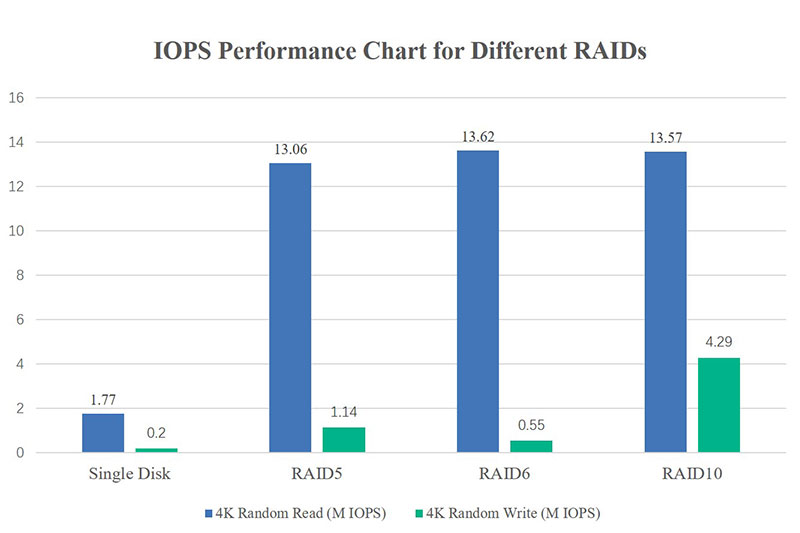 II. Summary
In terms of bandwidth, SupremeRAID™ SR-1010 with DapuStor NVMe SSD got amazing results, achieving a high performance value of 135GB/s, with an overall bandwidth performance loss of only about 5% compared to the theoretical value, a complete demonstration of the excellent performance of DapuStor NVMe SSD without being limited by platforms or hardwares.
In terms of IOPS, the best IOPS performance is 13M IOPS with 12 PDs configured, which also fully proves the superb performance of DapuStor NVMe SSD.
The report clearly evidences that DapuStor NVMe SSD and GRAID SupremeRAID™ SR-1010 are a powerful combination that showcases the superior performance of each and provides a new option for enterprise SSD users.
III. How Does SupremeRAID™ Maximize the Performance of NVMe SSD?
SupremeRAID™ uses NVIDIA graphics cards along with GRAID Technology 's innovative combination of hardware and software. The AI chip takes care of all I/O processing and redundant data computation, leaving precious CPU resources for the main application software.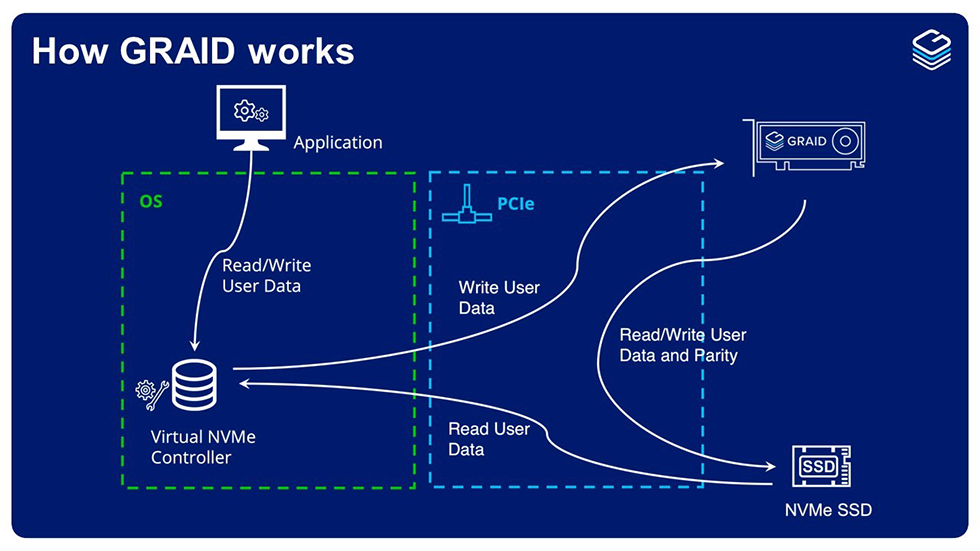 The above diagram shows the architecture of GRAID Technology , from which it can be seen that GRAID Technology's disk array card mainly consists of GRAID Technology Controller and Virtual NVMe Controller driver software. The control card is mainly responsible for handling the checksum bit calculation of RAID write data, and it is also relied on when writing data to update the checksum block. Software running on the GPU is responsible for maintaining the RAID algorithm and structure, and reading data directly from the NVMe SSD disk when reading data.
Let's take another look at the architectural differences between the GRAID SupremeRAID™ SR-1010 and the traditional RAID card.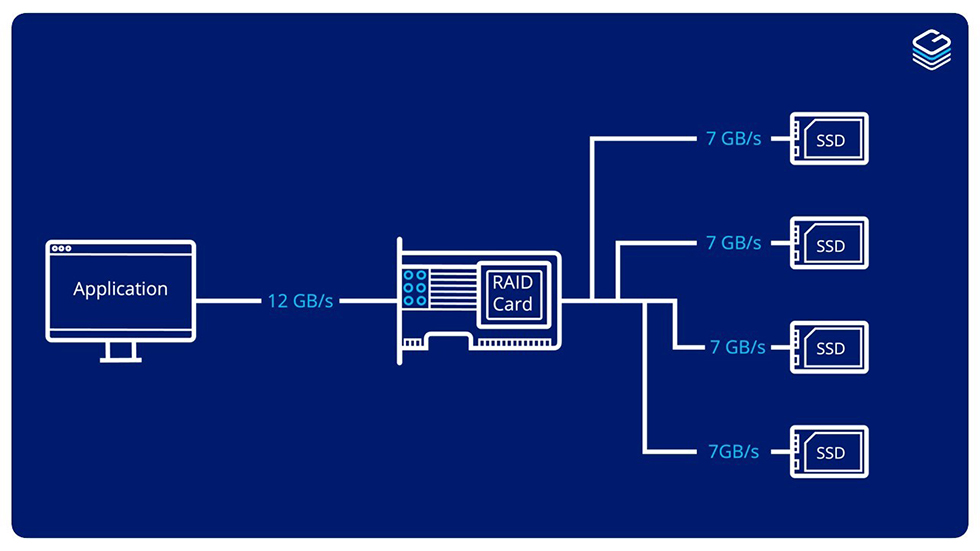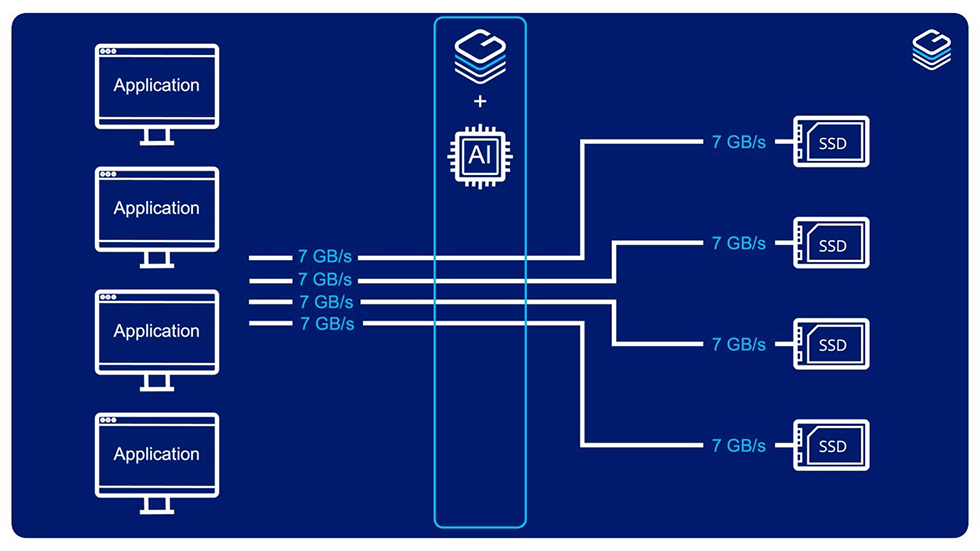 The biggest difference between GRAID SupremeRAID™ SR-1010 and traditional RAID cards is that the performance of traditional RAID cards is limited by the performance of the PCIe slot in which they are located and the processing speed of the ASIC chip. The GRAID SupremeRAID™ SR-1010, on the other hand, is unaffected and is more like a third-party data controller responsible for calculating and managing RAID algorithms. The data transfer between the customer data and the NVMe SSD is constant, which is an important reason why GRAID SupremeRAID™ SR-1010 can fully utilize the performance of the NVMe SSD.
As companies with advanced technologies in their respective fields, GRAID Technology and DapuStor have demonstrated their excellent product performance and features through this test. As an indispensable part of the development of the digital era, storage is of great importance to the development of the global digital economy, shouldering the important tasks of data storage, and ensuring business operations, etc. We expect to see more and more companies with innovative technological strength to invest in this field.