DapuStor Starts Mass Production of Haishen5 Series PCIe 5.0 SSD Featuring Marvell's Bravera™ SC5 Controller
2nd Aug,2023
browse number:836
DapuStor
DapuStor officially announced the successful start of mass production of its PCIe 5.0 SSD product series - DapuStor Haishen5 Series. With this announcement, DapuStor becomes one of the first companies to start production of SSDs powered by the Marvell® Bravera™ SC5 controller.
With impressive performance features, the DapuStor Haishen5 Series is an enterprise-level SSD that focuses on high performance, low latency, and large capacity. Firstly, the DapuStor Haishen5 Series achieves a significant leap in performance. Compared to its PCIe 4.0 products, the DapuStor Haishen5 Series doubles the throughput, with sequential read and write speeds reaching up to 14000/8000 MB/s, and 4K steady-state random read and write speeds of up to 2800/600K. This makes the DapuStor Haishen5 Series an ideal choice for critical cloud applications, particularly in scenarios that demand high-performance requirements.
In addition to its excellent performance, the DapuStor Haishen5 Series also offers a number of advantages such as low latency, excellent QoS performance, data security encryption, and multiple kinds of form factors, etc. It also supports QLC NAND, providing a comprehensive solution with better performance and lower cost for read-intensive application scenarios, bringing more flexibility and choices to customers. Moreover, the integrated internationalized supply chain ensures high quality product supply, so that the DapuStor Haishen5 Series can meet the diversified needs of customers in different application scenarios around the world.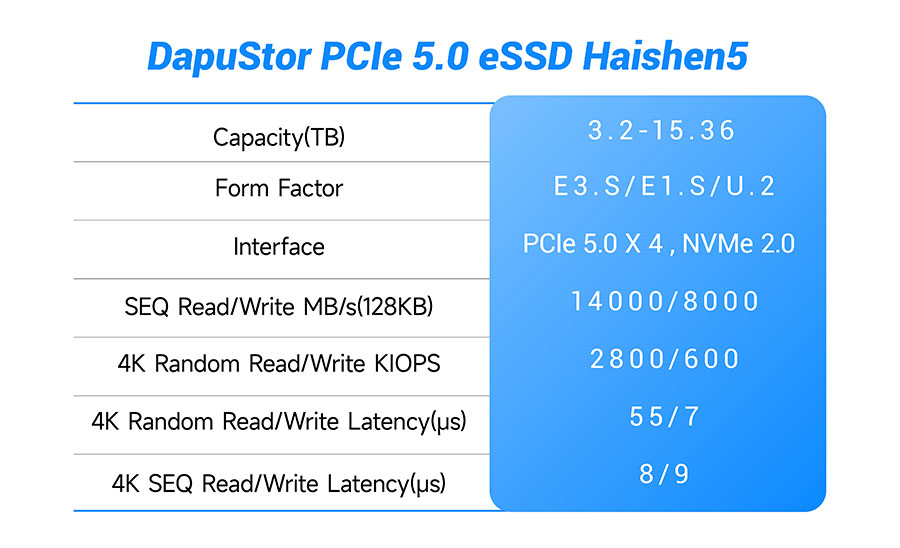 Product Specification
The DapuStor Haishen5 Series fully leverages the advantages of the Marvell Bravera SC5 SSD controller. Through the joint efforts of both research and development departments, new features such as SR-IOV and CMB have been introduced to the DapuStor Haishen5 Series. SR-IOV, with the abundant PF and NVMe queue resources of Marvell's Bravera SC5 controller, provides data centers with more efficient and cost-effective virtualization solutions. CMB, on the other hand, offers new possibilities for emerging high-performance storage architectures. These innovative features will provide customers with a completely new user experience and deliver significant advantages in critical application scenarios.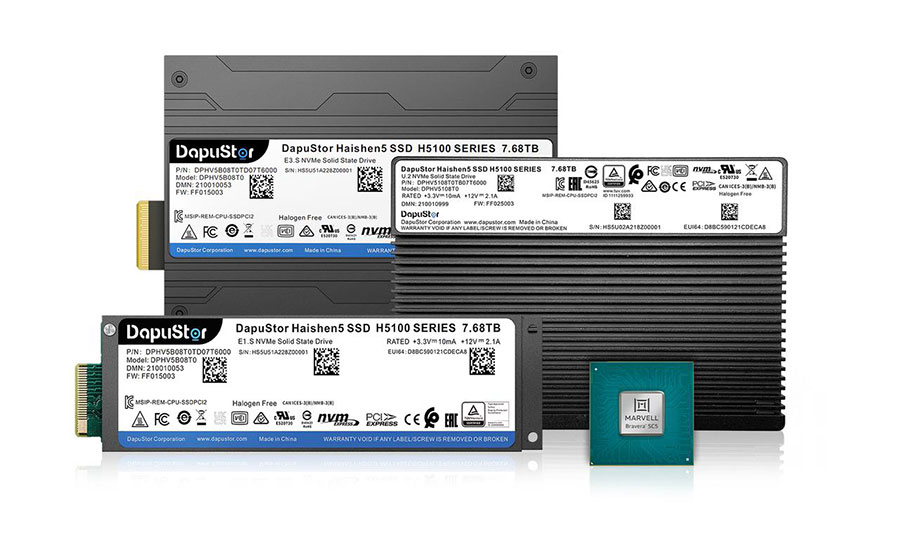 DapuStor Haishen5 Series & Marvell Bravera™ SC5 SSD Controller
Currently, the PCIe 5.0 enterprise SSD market is rapidly expanding, and large enterprises have already begun purchasing the DapuStor Haishen5 Series. The market potential brought about by this collaboration is significant, signaling that the close cooperation between DapuStor and Marvell in the field of storage technology will continue to drive industry innovation. With the mass production of the DapuStor Haishen5 Series, DapuStor and Marvell will continue to deepen their cooperation to provide more advanced and efficient storage solutions to customers worldwide.
"The Haishen5 Series brings out the best of Marvell's Bravera™ SC5 controller, enabling blazing performance and low latency which are critical for cloud and enterprise applications in generative AI environments," said Steve Fingerhut, Marvell Sr. Vice President, Flash Marketing, Storage Products Group (SPG). "We congratulate DapuStor on the production milestone of their Haishen5 Series and are excited to continue our longstanding collaboration to bring high performance, efficient SSD solutions for scalable, containerized cloud storage infrastructure."
"The collaboration with Marvell is an outstanding achievement in our joint pursuit of technological innovation," said Jinxing Li (John Li), Vice President of DapuStor. "As enterprises are increasingly demanding storage performance, reliability and flexibility in the fast-paced digital era, our R&D team has devoted a great deal of effort to ensure that the DapuStor Haishen5 Series not only outperforms previous products in terms of performance, but also offers more options to meet the needs of different application scenarios. Thus, DapuStor is confident in the performance of the Haishen5 Series with Marvell's controller. Meanwhile, we see great potential for success for the Haishen5 Series in the willingness of companies to purchase and in market feedback. In addition, we remain optimistic about the market's projected growth."