DapuStor Collaborates with Marvell on Industry's First PCIe 5.0 E1.S FF Enterprise SSD
3rd Aug,2022
browse number:759
DapuStor
August 2, 2022 - DapuStor today announced the industry's first PCIe 5.0 E1.S FF enterprise and data center SSD - Haishen5, developed in collaboration with Marvell. Samples of Haishen5 are expected to be available to customers as early as 2022 Q4.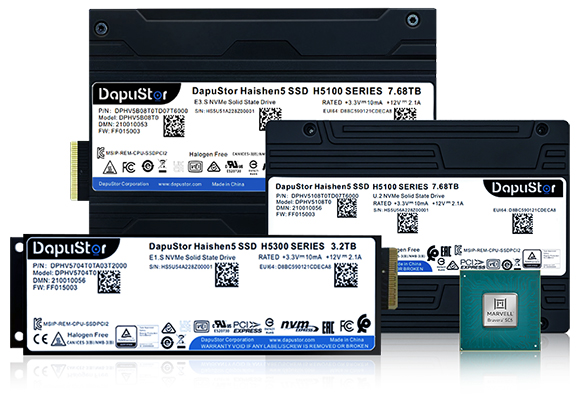 Photos of the Haishen5 & Marvell Bravera™ SC5 SSD controller

DapuStor is one of the earliest technology companies to provide a PCIe Gen5 enterprise and data center SSD. For the key components, the Haishen5 series adopts Marvell's Bravera™ SC5 family, the industry's first SSD controllers to support PCIe 5.0. The Bravera SC5 SSD controllers are designed with high performance, architecture flexibility, best-in-class efficiency, and leading security features to address the critical requirements for scalable, containerized cloud storage infrastructure. Compared with PCIe Gen4 products, the DapuStor Haishen5 series offers double throughput with sequential read/write speeds up to 14000/8000 MB/s and 4K random read/write IOPS up to 2800/600K. This makes the DapuStor Haishen5 SSDs ideal for critical cloud applications such as hypercomputing, intelligent AI scenarios, and metadata processing.
In addition to TLC support, Haishen5 series will also support QLC NAND, providing a comprehensive solution with better performance and lower cost for read-intensive application scenarios.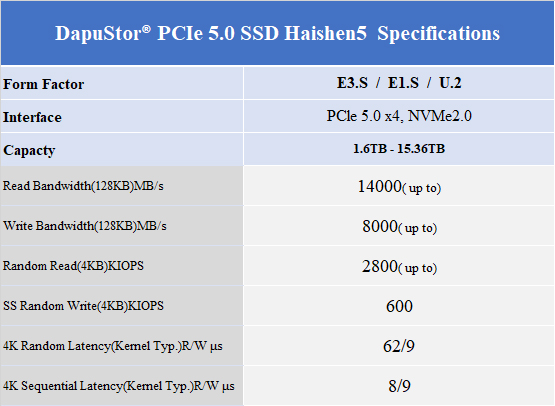 DapuStor PCIe 5.0 SSD Haishen5 Performance

"DapuStor has built a long-term strategic collaboration with Marvell. In 2019, we launched the Haishen3 series PCIe 3.0 enterprise SSD, incorporating Marvell's 88SS1098 SSD controller, which the market has widely recognized," said John Lee, Vice President, DapuStor. "We have further deepened our strategic cooperation with Marvell and DapuStor has launched the industry's first E1.S FF PCIe 5.0 product series, offering higher IOPS/Watt for lower TCO and 4K random R/W latency less than 62/9μs. Both parties work together with their own cutting-edge design and R&D technologies to serve the global digital infrastructure market and contribute to the digital transformation. We are honored to be part of this transformation."
"We are thrilled to extend our collaboration with DapuStor to now include the deployment of Marvell's Bravera SC5 controller in their Haishen5 SSD series," said Thad Omura, Vice President of Marketing, Flash BU, Marvell. "We congratulate DapuStor on achieving this milestone of launching PCIe 5.0 SSDs that are driving industry-leading performance, efficiency, and data security for enabling the most advanced flash storage solutions. Bravera SC5 is optimized for cloud storage and offers several key hardware-driven features to address the current cloud infrastructure challenges like throughput control (metering) in multi-tenant environments, edge expansion attestation / security, and improving the IO latency for real-time user responses."
About DapuStor
DapuStor, headquartered in Shenzhen, China, develops next-generation data storage and high-performance SSDs for global cloud and enterprise applications, with excellent performance, intelligence, security, and low power.
DapuStor is also a one-stop shop provider for enterprise and data center SSD solutions. Products of DapuStor are widely applied to multiple areas, such as databases, CDN, cloud computing, big data, artificial intelligence, and other fields.