Testing | How Fast Can a NVMe SSD RAID be?
31st May,2022
browse number:238
DapuStor
Redundant array of independent disks (RAID) is a storage technology used to improve the processing capability of storage systems. This technology is designed to provide reliability in disk array systems and to take advantage of the performance gains offered by an array of multiple disks over single-disk storage.

RAID employs the techniques of disk mirroring, disk striping and data validation to improve performance, reliability and fault tolerance. There are different RAID levels, for example, RAID 0, RAID 1, RAID 5, RAID 6, RAID 10, RAID 50, RAID 60, etc.
Today's solid state drives (SSDs) are superior to HDDin terms of performance and reliability, but the losses associated with a failure are enormous, so RAID is still a good option for ensuring reliability anddata security. The current mainstream SSD interfaces are classified as SATA, SAS and PCI-E. Thelatest PCIe 4.0 NVMe SSD has a bandwidth of 7GB/s per drive. So, does NVMe SSD RAID offer anything but data protection and can it improve performance? We will reveal the answer with this test.
The 3 RAID cards we used this time are Broadcom 9560-16i, Dell H755N and HighPoint SSD7580. The basic specifications and key features are as follows.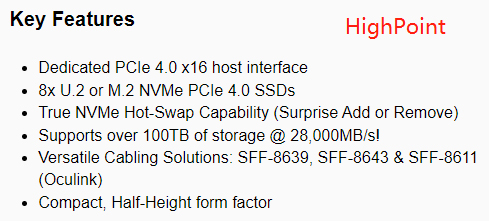 @HighPoint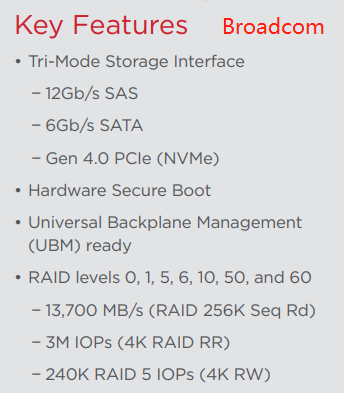 @Broadcom
For these three RAID cards, we used DapuStor Enterprise PCIe 4.0 Roealsen 5 Series R5301 NVMe SSD for RAID10 and RAID5 performance testing. Single-disk performance data has also been included for comparison purposes.
Testing platform information: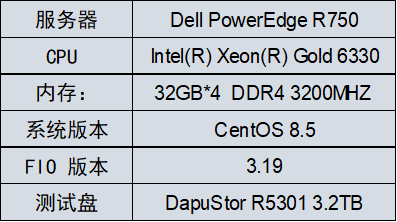 The Dell H755N in the DapuStor lab supports up to 8 NVMe SSDs, with only x2 widths for each drive. The Broadcom 9560-16i supports up to four NVMe SSDs, with x4 width support for each drive. In this test, 8 NVMe SSDs were used on the Dell H755N, set up RAID10 and RAID5 respectively. Four NVMe SSDs are used on the Broadcom 9560-16i, set up RAID10 as well as RAID5. Four NVMe SSDs were used on the HighPoint SSD7580 and tested for performance in RAID10.
The testing data for RAID10 and RAID5 respectively are as follows:
(SR-sequential read; SW-sequential write; RR-random read; R- random write)
RAID10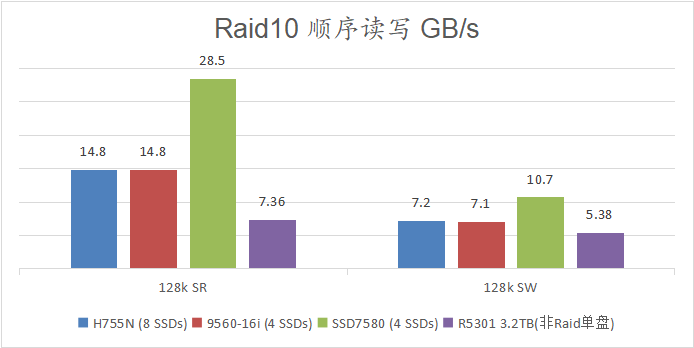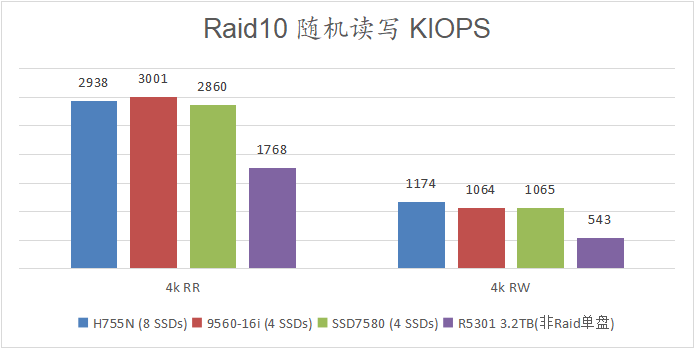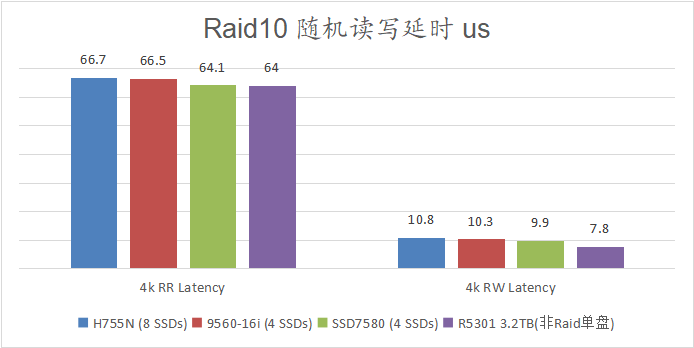 RAID5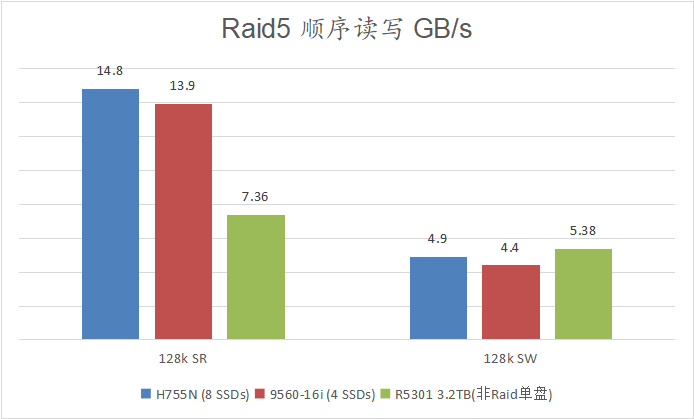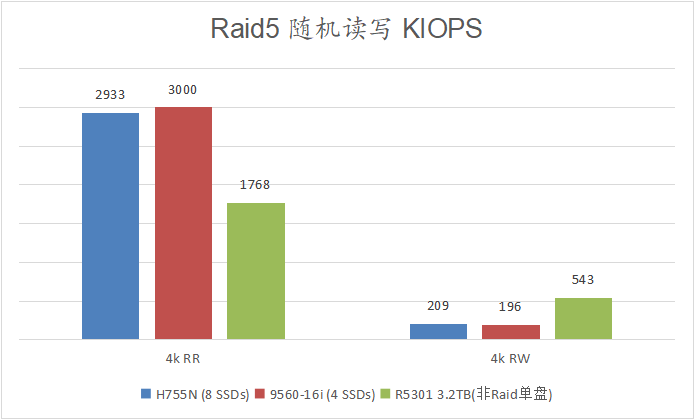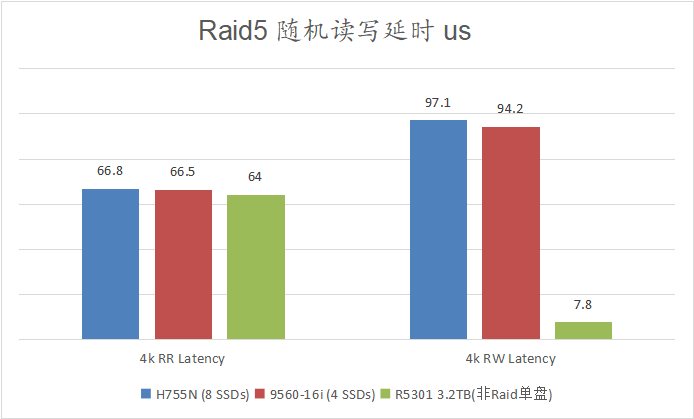 From the above data we can see that:
In terms of IOPS, the SSD7580 + NVMe SSD's RAID10 random read IOPS is inferior to Broadcom's RAID card, but random write is on par with it. The 9560-16i /H755N+ DapuStor NVMe SSD's RAID5 random read IOPS is very close to RAID10, both around 3 million IOPS. The RAID5 random write is around 200,000 IOPS, which is lower than Broadcom's published maximum performance and may require a better configuration.
The write performance of RAID5, on the other hand, leaves a lot of room for improvement. The current 4k random write IOPS of the DapuStor R5301 is 540k, and RAID5 does not take advantage of the DapuStor R5301's excellent random write performance.
In terms of bandwidth, both the 128k bandwidth of the 9560-16i /H755N / SSD7580 + DapuStor NVMe SSD exceeds the maximum value published bythemselves. The SSD7580 makes good use of the high bandwidth performance of NVMe SSDs, with sequential reads of up to 28.5GB/s.
The above is the testing result of the Enterprise NVMe SSD RAID Array. Welcome to leave your comments and communicate with us.