DapuStor Xlenstor2 X2900P 800GB Review The 100 DWPD Next-Gen SLC Optane Alternative
4th Sep,2023
browse number:149
DapuStor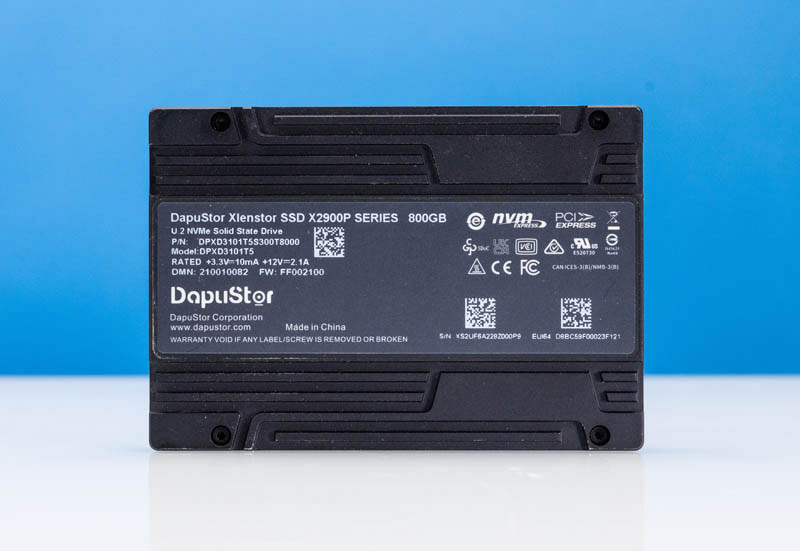 DapuStor Xlenstor2 X2900P Label
"
It has been over a year since Intel announced its Optane wind-down. Without that new storage-class-memory SSD on the market, there is now a hole in the high-end SSD space for drives that can handle consistent heavy writes. Today, we are going to look at the DapuStor Xlenstor2 X2900P, an 800GB SSD that uses SLC NAND to achieve a whopping 100 drive writes per day (DWPD) of endurance and consistent performance.
01 DapuStor Xlenstor2 X2900P 800GB Overview
The DapuStor Xlenstor2 X2900P arrived in its top-end form, an 800GB PCIe Gen4 NVMe SSD in a 2.5″ form factor.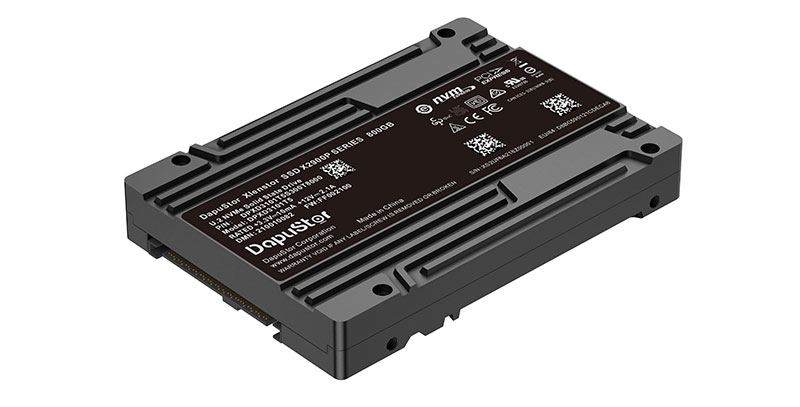 DapuStor Xlenstor2 X2900P Angle 2
800GB in 2023 for a modern SSD is not a huge capacity when we showed off 30.72TB to 61.44TB SSDs briefly in a video this week. This is not meant for capacity. Instead, this is meant for heavy write-pressure applications, such as logging, some database functions, and so forth where consistent low-latency performance is required. Much of the industry has transitioned to larger TLC and QLC SSDs as data center SSD vendors target the hard drive market. DapuStor is doing something completely different.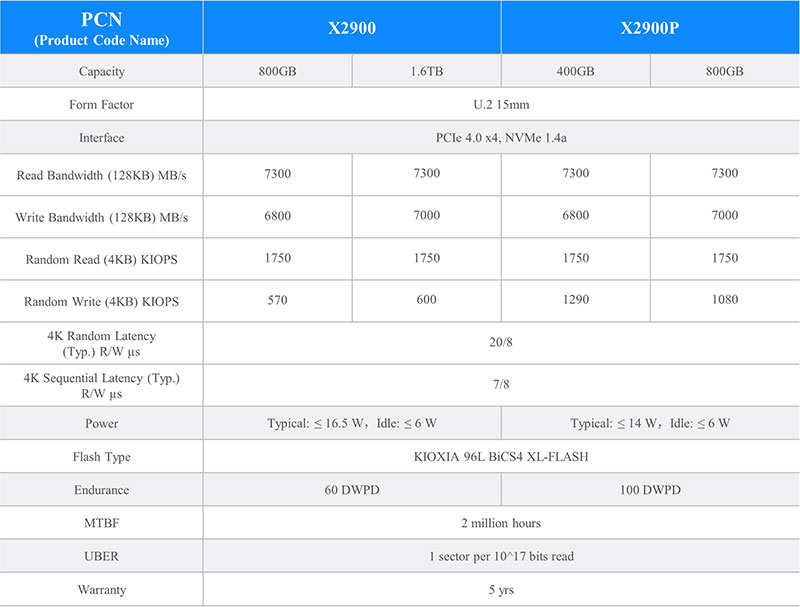 DapuStor Xlenstor2 Family Specs
The drive we have here is the 800GB DapuStor X2900P. The "P" is the higher write endurance and higher performance version that has a lower capacity than the X2900 but is the more extreme drive.
While we have been talking less about NAND recently, it is notable here. While much of the capacity market has moved to 160 layer to 200+ layer NAND, this is still on 96-layer NAND. The base for this drive is the Kioxia XL-Flash memory. That is a SLC, or single level cell, NAND designed to drive performance.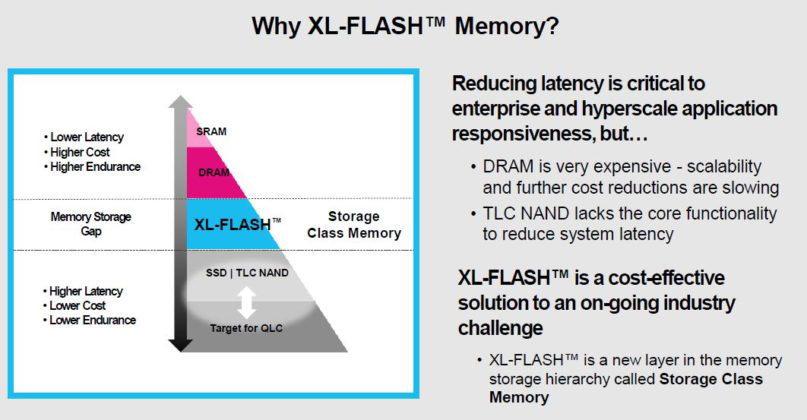 Kioxia FL6 Why XL FLASH
By storing one bit per cell, NAND is storing one-third to one-quarter (versus TLC and QLC) of the data of other common SSDs. While that decreases capacity, it is much easier to maintain and read/ write proper charge levels to NAND cells in SLC. As a result, we get higher endurance and higher performance, the two goals of the Xlenstor2.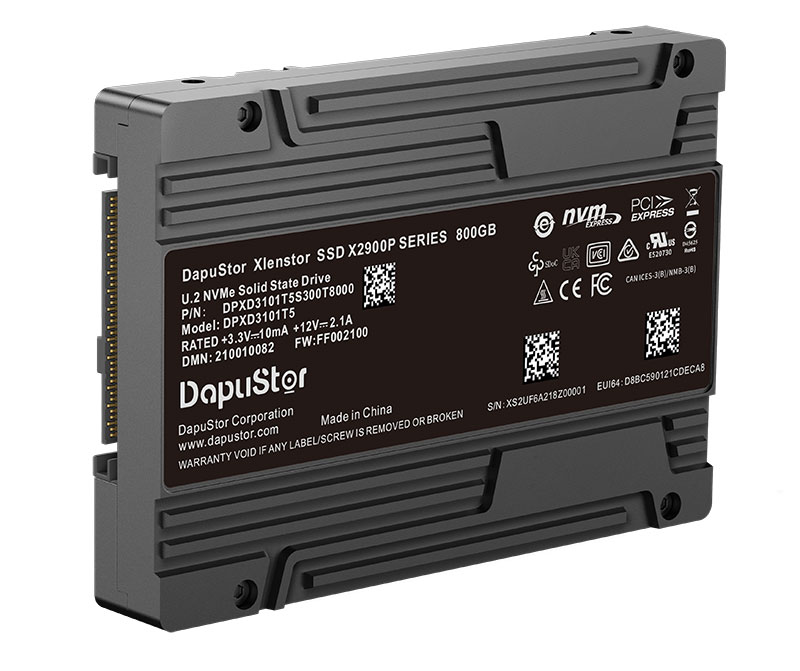 DapuStor Xlenstor2 X2900P Angle 1
Now, we have had the chance to look at one in a hands-on review. Let us get to that next.
02 DapuStor Xlenstor2 X2900P 800GB Basic Performance
For this, we are going to run through a number of workloads just to see how the DapuStor Xlenstor2 performs. We also like to provide some easy desktop tool screenshots so you can see the results compared to other drives quickly and easily.
CrystalDiskMark 8.0.4 x64
In the event you want to see a side-by-side, here is the DapuStor Xlenstor2 800GB (D: for DapuStor) next to the Intel Optane DC P5800X 800GB (O: for Optane):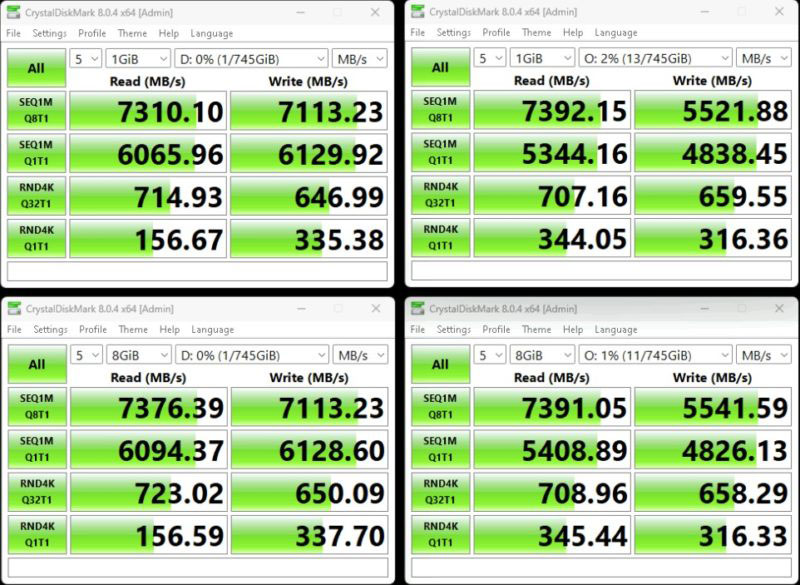 800GB Drives CrystalDiskMark
On the 4K Random Write Q1T1 numbers, we saw the biggest surprise. We did not expect the DapuStor to notch a small victory here, yet it did. On the read side, the Optane pulls ahead at the low queue depth.
ATTO Disk Benchmark
For those that want to see the results compared to the Intel Optane DC P5800X on the same system, here they are: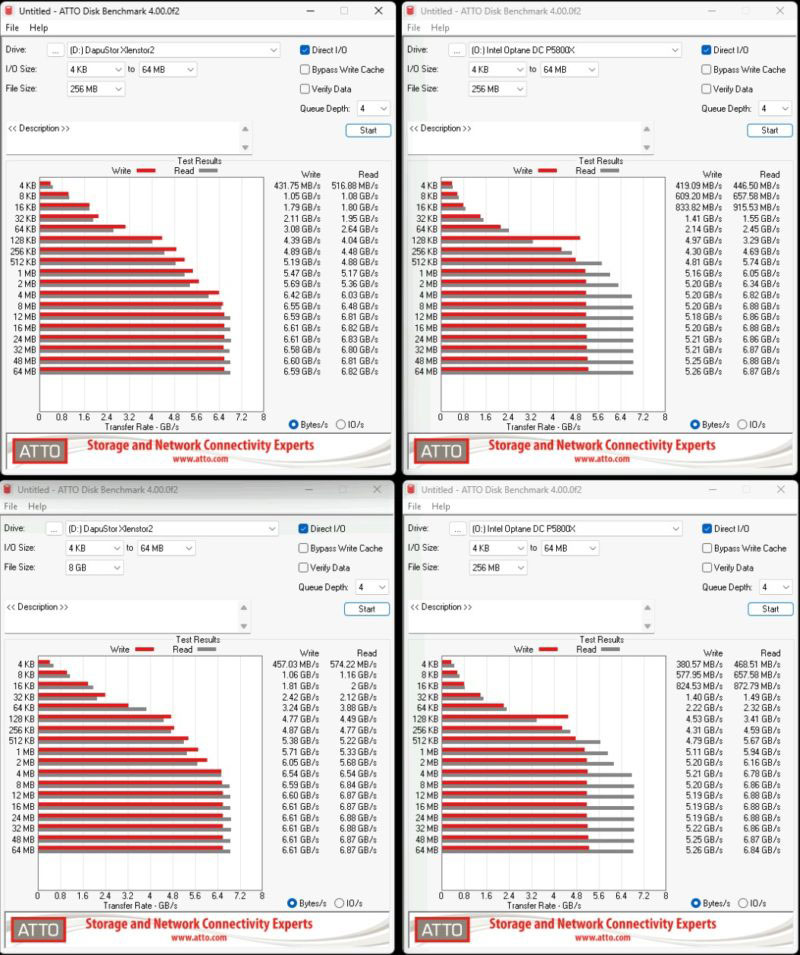 800GB Drives Atto Disk Benchmark 4
We are using 4KB as the minimum here since that aligns well with the Optane SSD. Something to notice on the DapuStor side is the consistency. Most SSDs do not do back-to-back runs and have every read/ write number for 1GB and 8GB be exactly the same. That is perhaps the wildest result that we have today.
AS SSD Benchmark
Here we can see a fairly close pairing again between the two drives. Optane notches wins on three of the four access time tests, but DapuStor is able to win one. Usually, that is where SCM shines.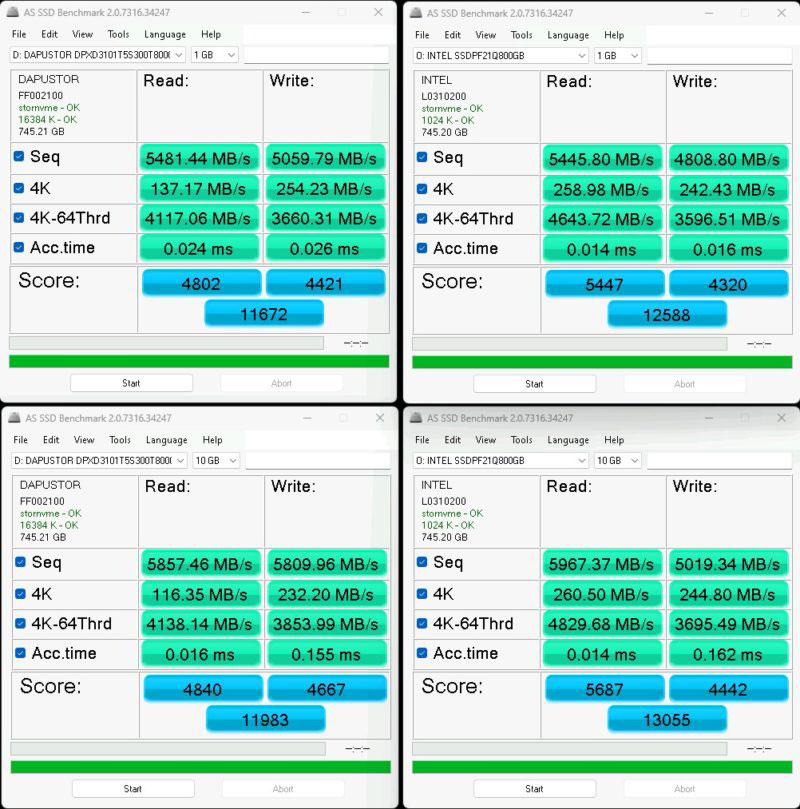 800GB Drives AS SSD
Next, let us get into some of our Linux-based benchmarking.
03 DapuStor Xlenstor2 X2900P Performance
Our first test was to see sequential transfer rates and 4K random IOPS performance for the DapuStor Xlenstor2 X2900P. Please excuse the smaller-than-normal comparison set. In the next section, you will see why we have a reduced set. The main reason is that we swapped to a multi-architectural test lab. We actually tested these in 20 different processor architectures spanning PCIe Gen4 and Gen5. Still, we wanted to take a look at the performance of the drives.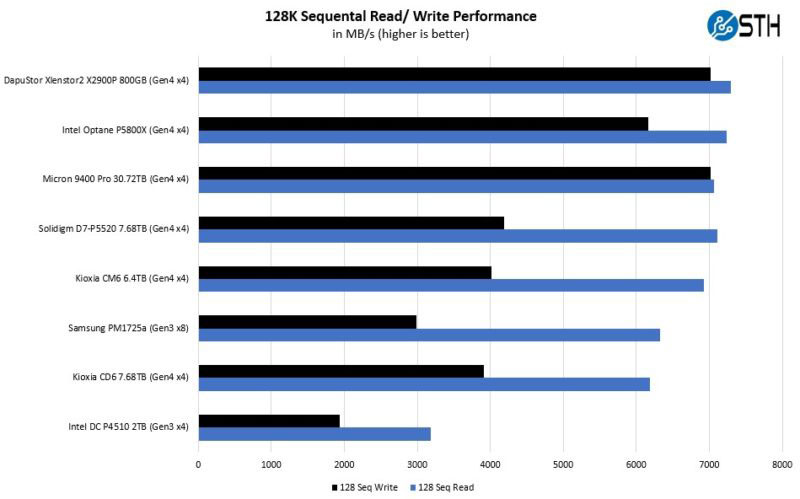 Dapustor Xlenstor2 X2900P Four Corners Sequential Performance
Here is the 4K random read and write performance: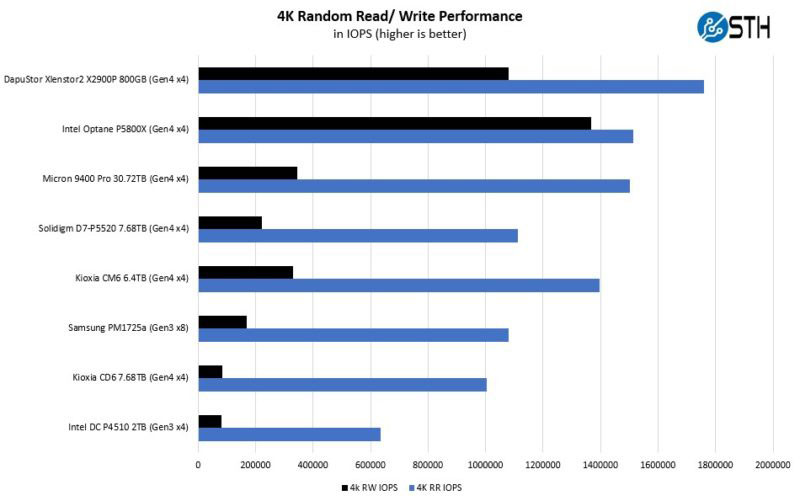 Dapustor Xlenstor2 X2900P Four Corners 4K Random Read Write IOPS Performance
The clear difference between these drives and a normal NAND drive is the 4K random write. That is exactly what SCM drives are designed for. While normal NAND has gotten fairly good at 4K random reads, the write side always falters. Here we can see the massive gap between the DapuStor and Optane versus even fast NAND drives like this year's Micron 9400 Pro.
Generally, the 4K random write latencies were very similar between the DapuStor and P5800X. The big difference was in the read latencies where Optane is silly fast at 40-60% of the latency of the Dapustor (both are much lower than TLC/ QLC NAND drives.)
04 DapuStor Xlenstor2 X2900P Application Performance Comparison
For our application testing performance, we are still using AMD EPYC. We have all of these working on x86 but we do not have all working on Arm and POWER9 yet so this is still an x86 workload.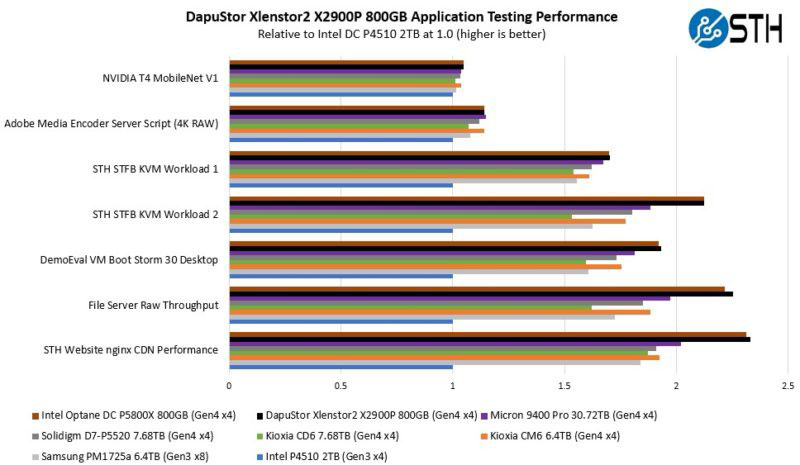 Dapustor Xlenstor2 X2900P Application Testing Performance
As you can see, there are a lot of variabilities here in terms of how much impact the DapuStor has on application performance. Let us go through and discuss the performance drivers.
On the NVIDIA T4 MobileNet V1 script, we see very little performance impact on the AI workload, but we see some. The key here is that the performance of the NVIDIA T4 mostly limits us, and storage is not the bottleneck. We have a NVIDIA L4 that we are going to use with an updated model in the future. Here we can see a benefit to the newer drives in terms of performance, but it is not huge. That is part of the overall story. Most reviews of storage products are focused mostly on lines, and it may be exciting to see sequential throughput double in PCIe Gen3 to PCIe Gen4, but in many real workloads, the stress of a system is not solely in the storage.
Likewise, our Adobe Media Encoder script is timing copy to the drive, then the transcoding of the video file, followed by the transfer off of the drive. Here, we have a bigger impact because we have some larger sequential reads/ writes involved, the primary performance driver is the encoding speed. The key takeaway from these tests is that if you are mostly compute-limited but still need to go to storage for some parts of a workflow, the SSD can make a difference in the end-to-end workflow.
On the KVM virtualization testing, we see heavier reliance upon storage. The first KVM virtualization Workload 1 is more CPU limited than Workload 2 or the VM Boot Storm workload, so we see strong performance, albeit not as much as the other two. These are KVM virtualization-based workloads where our client is testing how many VMs it can have online at a given time while completing work under the target SLA. Each VM is a self-contained worker. We know, based on our performance profiling, that Workload 2, due to the databases being used, actually scales better with fast storage and Optane PMem. At the same time, if the dataset is larger, PMem does not have the capacity to scale, and it is being discontinued as a technology. This profiling is also why we use Workload 1 in our CPU reviews. DapuStor's FAST random IOPS performance is really helping here. On Workload 2, and the VM Boot Storm, we see the performance of the new drives really shine. These drives are very fast.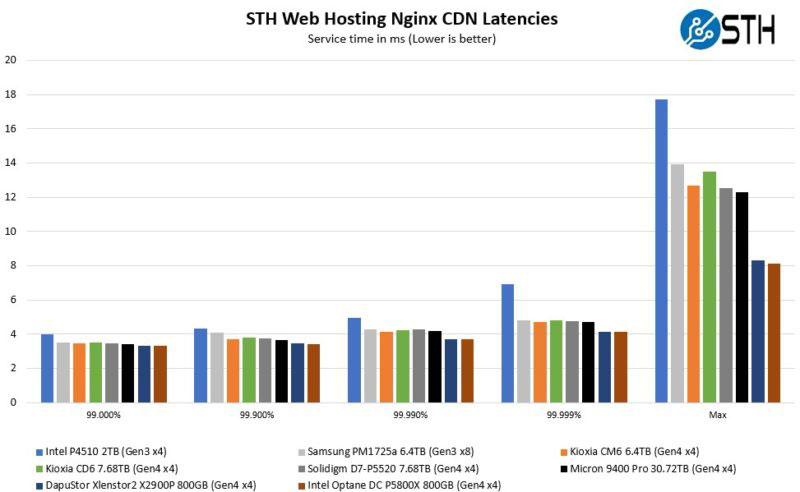 Dapustor Xlenstor2 X2900P STH NGINX Web Hosting Nginx CDN Latencies
Here is where we can really see the big delta between a SCM-class device and a capacity-focused SSD. The gap is not overly present at the 99% but by the time we hit five-9's the gap is huge. There is always some application-related latency, but overall this is great performance. To be clear, the Intel Optane P5800X beats DapuStor on some of these, but with Optane going away, perhaps it is better to think of this as a replacement with a similar level of performance. Since the STH website does not use an enormous amount of capacity, we have been hosting the site on SCM for the last five years because of this.
Now, for the big project: we tested these drives using every PCIe Gen4 architecture and all the new PCIe Gen5 architectures we could find, and not just x86, nor even just servers that are available in the US.
05 DapuStor Xlenstor2 X2900P 800GB Performance by CPU Architecture
If you saw our recent More Cores More Better AMD Arm and Intel Server CPUs in 2022-2023 piece, or our pieces like the Supermicro ARS-210ME-FNR Ampere Altra Max Arm Server Review, Huawei HiSilicon Kunpeng 920 Arm Server piece, you may have seen that we have been expanding our testbeds to include more architectures. This is in addition to the Ampere Altra 80 core CPUs that are from the family used by Oracle Cloud, Microsoft Azure, and Google Cloud. We also managed to test these on the newest generation AMD EPYC Bergamo and Genoa-X SKUs.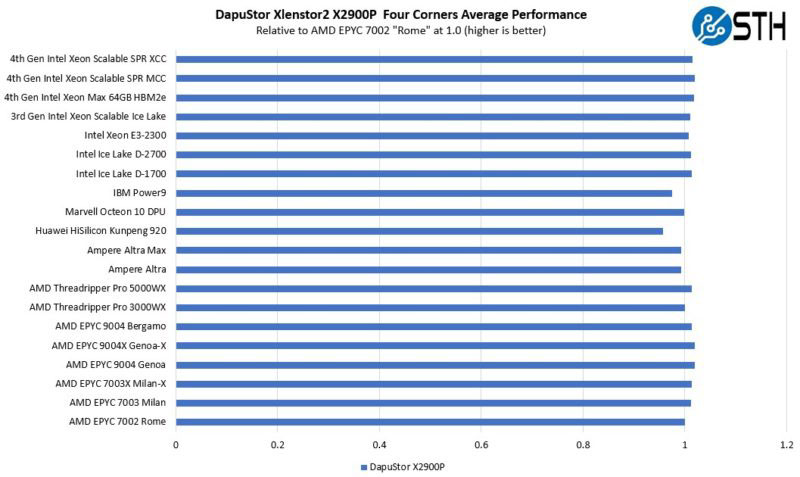 Dapustor Xlenstor2 X2900P Four Corners Average Performance To AMD EPYC 7002 Rome
Since that is hard to read, we have a zoomed-in view below without a 0 X-axis.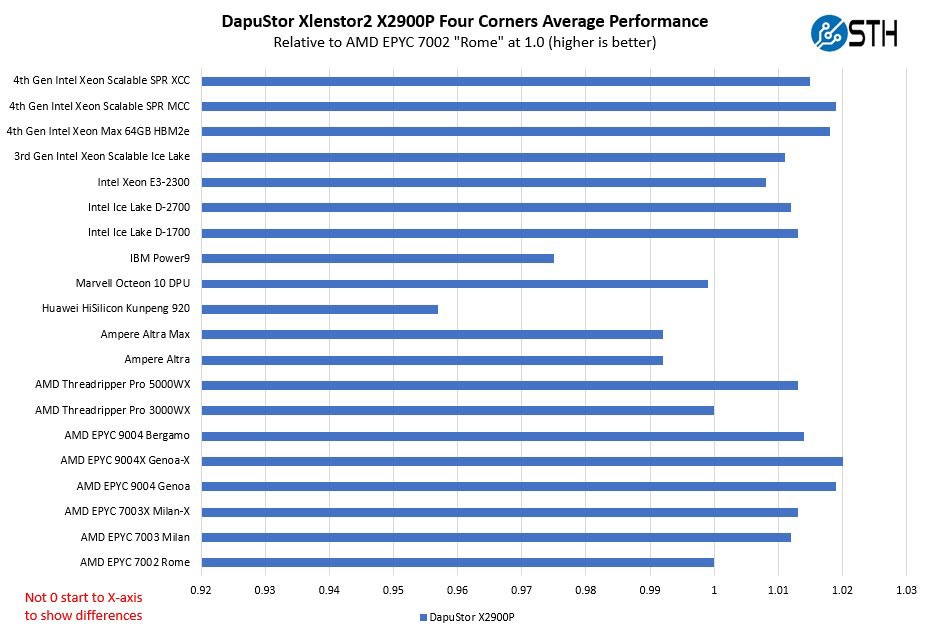 Dapustor Xlenstor2 X2900P Four Corners Average Performance To AMD EPYC 7002 Rome Zoom
Generally, this drive performed well on the newer PCIe Gen4 and Gen5 x86 controllers. The Arm and IBM Power9 controllers are generally slower and that is exactly what we saw here. There are no surprises.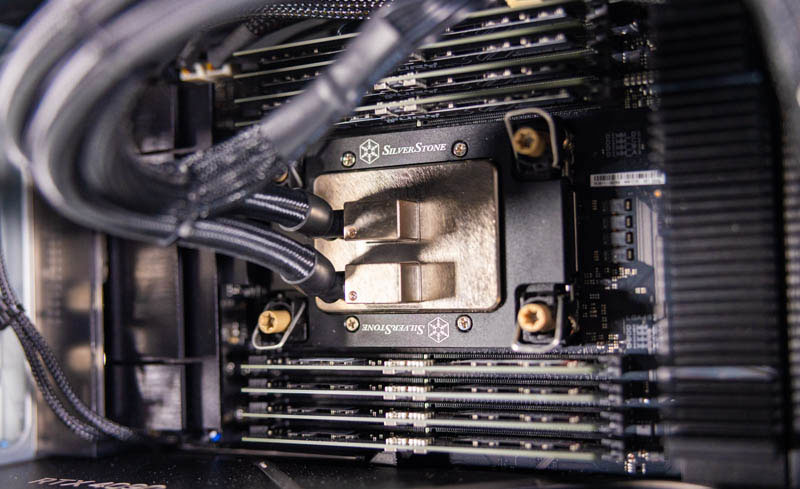 Falcon Northwest RAK Intel Xeon W 3495X Edition 9
We noted a similar pattern with the Intel Xeon W-3400 series and the W-2400 series as we saw on the Sapphire Rapids parts, which makes sense given they are the same underlying chips. One slight difference is that we saw the top-end 56-core Intel Xeon w9-3495X in the Falcon Northwest server/ workstation performed better when it was in its full 1.5kW performance mode. Since that is a specialty platform, we are going to leave it out for now but you can learn more about the platform here.
06 Final Words
There is a part of this review which is a "that's life" component. The Intel Optane DC P5800X is a great SSD, but it is now a discontinued product. What is more, Optane as a technology has been retired, meaning that if you want persistent storage in a 2.5″ form factor, NAND is really the option. To that end, DapuStor is stepping up with an 800GB PCIe Gen4 NVMe SSD that has the awesome performance to fill the void left by a retiring Optane.
There is a good reason why we are calling this an Optane replacement. It is the same size, and performance profiles are similar except on the 4K random read side. Both drives are also 100 DWPD drives which is madness. That is 80TB of random writes per day for five years on an 800GB SSD. At the same time, much of the market as moved to higher-capacity TLC/ QLC NAND SSDs making the DapuStor Xlenstor2 X2900P a more niche drive. Still, there are plenty of applications looking for Optane alternatives, and DapuStor has a very strong one here.

cr:https://www.servethehome.com/dapustor-xlenstor2-x2900p-800gb-review-the-100-dwpd-next-gen-slc-optane-alternative-kioxia-intel-optane/